17+ Divi
Carousel

Module in One Divi Plugin

Divi Carousel Slider is the ultimate solution to create any Divi sliders. It has several powerful features, ready-to-go section layouts, and templates. So, Divi lovers, give it a try and get rid of all the Divi Builder limitations.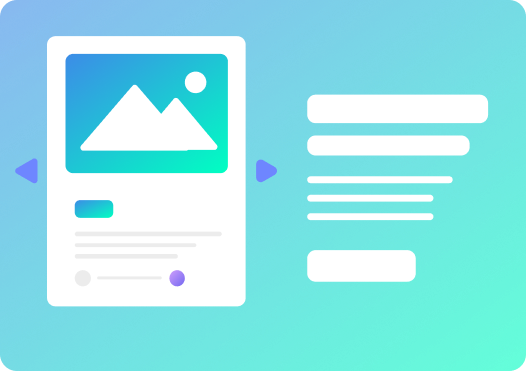 Build an Awesome Website With
Divi Carousel Module Free
We build the carousel pack focusing on quality rather than quantity. Our Divi carousel plugin modules are the most stable, feature-riched, powerful, and easy to use.
Why Divi Lovers Go for Divi Carousel Maker?
Divi Carousel Slider creates trendy, unique, and future-demand custom carousel modules for people like you who think out of the box. Here are some reasons why hundreds of Divi users join every day.

World-Class Support
You have dedicated support 24/7. Also, if required you will get live support from our technical department at a scheduled time.

Lightweight
Divi Carousel Slider is built with a team of 5+ years of experience in Divi Theme. So, they found a way to make the plugin lightweight while giving you maximum design flexibility.

Intuitive Dashboard
Divi Carousel slider comes with an intuitive and easy to conduct dashboard. You can enable and disable any module you want. So, no extra module is loaded and the website remains faster.

Section Layouts
You get a bunch of attractive, unique, and good-looking carousel section layouts designed by industry experts. Plus, the process is always kept on, so the section number is growing as always.

Well-Documented
All of the modules are well-documented and the features are presented with detailed guidelines. So, using every single module of Divi Carousel Slider is super cool and fun.

Upcoming Updates
Divi Carousel Slider always cares about future trends and make modules as the situation demands. So, you will always get trendy sliders and features at your fingertips.
Powerful Features
Divi Carousel Slider has a range of handy but effective features to achieve any complicated
design in a fun and engaging way.

Carousel Settings
Complete control over the carousel
setting including animation,
loop, center-slide, and more
options to tweak your
design easily.

Custom Spacing
Provide independent wrapper padding margin around all the design elements to keep a
balanced white space on the website.
Navigation
Two different navigation styles, the Arrow and Dots. Additionally, you get a lot more advanced
features to decorate them as needed.

Pagination
Transform the ordinary pagination button into a lucrative one with features like the before-after
label, border-radius, typography, and more.
Who is Divi Carousel Plugin Made for?
We made Divi Carousel free with a vision for everyone from beginners to experts and freelancers to agencies.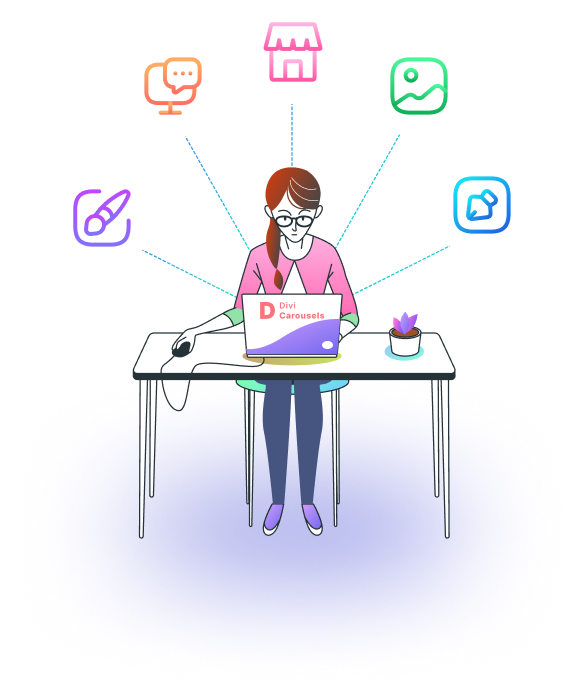 Ecommerce Owners
Divi Carousel Slider has many modules to show products inside a Divi WooCommerce product carousel slider in an interactive way. So, grab the deal now and give your online presence a next-gen look.

Website Design Agency
Divi Carousel plugin helps Design Agencies to create several eye-catchy carousel sliders for their client websites without facing any extra hassles.

Divi Designers
If you are an old player of Divi Theme and plan to continue working with this magnificent theme, then our Divi Carousel maker plugin is for you.

Website Bloggers
If you are a blogger and using Divi Theme, our Divi plugin would be a great choice to show blog post carousel slider.
Risk Free Guarantee
14 Days Money Back Guarantee
Our promise to you is simple – if you are not completely satisfied with Divi Carousels, simply return it within 14 days for a full refund of the purchase price. No questions asked! We want you to be confident in using our product and know that we're here to help you succeed.
All pricing is in USD. You can change plans or
cancel your account at any time.
Happy Client
It's the great creation for Divi Builder that I have ever landed my hands on. I was curious and bought this Divi plugin after hearing about the fame of the post-carousel module but I find others are also mindblowing. Highly recommended.
Name
Designation
I have been using the divi Carousel on my website and must say it has given me an attractive way to show my work in the showcase. Within just a few clicks easily I can create an image carousel and can grabs my visitor's attentions
Name
Designation
It's a game-changer plugin. I need to show my team in a coverflow style. I got all this to show my teams in 3d coverflow with divi carousel plugin. I definitely suggest others use divi carousel
Name
Designation
I love Divi Carousels because of their dedication to client support. I had a problem once and the technical team took care of that within two hours by contently working. Highly appreciate their efforts.
Name
Designation
Divi Carousel Plugin impressed me on multiple levels. You won't regret it. This Plugin has got everything I need. Thank you for making it painless, pleasant, and most of all hassle-free!
Name
Designation
Thanks, Divi Carousel ! Dude, your stuff is the bomb! The best on the divi carousel ! Your company is truly upstanding and is behind its product 100%.
Frequently Asked Questions
Here is an answer to some of the common questions we frequently get from our users.
What are the requirements to use Divi Carousel Slider?
You need to have the latest version of Divi Theme or Builder installed on your website. Divi Carousler is built using the Divi API. It works with the Divi builder plugin.
Will more modules be added in future updates?
Yes of course! We have plans to add new Divi Carousel modules. Not only the module, but we will also add new section demos and templates every month.
Do the Divi Carousels have a free version?
What will happen after my license expires?
You will get an automatic renewal notification email from Divi Carousel Slider a week before the subscription expires. If you do not renew the subscription, you will still be able to use it on your site. However, you will not receive further updates or support. Therefore, we highly recommend that you renew the subscription accordingly.
Want To Get Discount And Product Updates From Us?